While we a are waiting for Mr.
Charles MacDonald's
(simply known in the forums as
CharlesM
)
model viewer
, I was a little bit impatient and anxious, what we still can't see Silent Hill town's 3D models (except
Charles
, but he doesn't share his work)
So I said "
what the heck - I'll do it myself
". In theory it's very simple - I knew that meshes files (3D objects in programming language) are simply made of
vertexes and faces
coordinates, and
UV maps
(coordinates for textures to wrap meshes)
No mater what format file is - the basics are all the same. It's that it's written a little bit different. So what we have to do, is just understand how Silent Hill meshes files ar written and translate thous coordinates to more readable format like .obj or make a
model viewer
like Mr. Charles MacDonald is doing.
So we need:
1) pure uncompressed and extracted Silent Hill meshes files
2) Hex editor
3) ????
4) profit
Fortunately
Silent Hill extractor
is already made, so you can extract your game files (I sugest to download
SH1 Modding Pack
witch includes already extracted files, an Hex editor and programs to view .TIM files (PSX default textures))
Now let's look at your extracted file list:
1ST - all pictures and info, when your game loads (hence "the first" name)
ANIM - all animations is here
BG - all background's (like town, doors, walls, cars, trees) textures are meshes
CHARA - all characters, enemies, boses etc. textures and meshes
ITEM - all items like guns, ammo, keys textures and meshes
MISC - miscellaneous - don't know whats inside
SND - sounds, but don't know more about it
TEST - all textures and meshes from the very beginning and creating this game. It should not be used in the final game. (you can call it Alpha stuff). I don't know why they leave it, but it's interesting too see how it all began.
TIM - all pictures from "close up" when you look at something, like bird cage, dog house "go to school" on the ground etc.
VIN - don't know, but it seems it is related to maps? If you look in file with hex editor or wordpad you can see text used in game
XA - I have no idea that this is
So our target is BG, CHARA and ITEM folders
Every object have texture file (.TIM) and mesh file
Lets look at example:
This is Kaufman's texture and mesh file. You can open texture file with your favorite
tim viewer
program and edit export etc. (I have successfully edited textures and put them back in the game, but that's for another time)
But the problem is mesh files, because they are in house format, so no program can open it, because it don't understand where vertex, faces and UV coordinates are held.
So we have to manually detect where it is held with your favorite
hex editor
. And when we do - to write a code, that can show, or export to other known formats like
.obj
That's the hard part... fortunately after extensive hours searching on the web, I have found a shortcut, so called "
3) ????
"
Itroducing:
Universal 3D models extraction program!
an
hex2obj
program made by
M-M-M-Monster veteran
from
xentax
forums!
Now hold your horses - it's still not one miracle button extraction. You still need to locate coordinates info with hex editor and put required info in the program. So you still need to know hex wizardry and other 3D programming stuff.
Unfortunately this stuff is a little bit too complicated for me, so I wrote this post, so anyone who can understand this stuff, could carry on with this amazing program.
I suggest everyone to download the program. It comes with tutorial and example file. If you make through tutorial, and understand what you did - congrats! Silent Hill community needs you solder!
It is very hard to locate where coordinates are located in the file, so where will be a lot of try and errors. So the more people will work on it - the bigger chance it is to find it.
I suggest working on more simple object. But what object is the most simple? I think it is
FLAUROS
from ITEM folder - it's just a simple pyramid shape object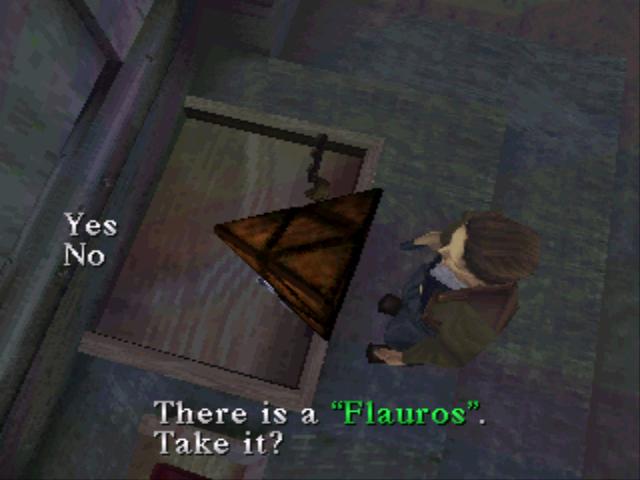 Flauros in
hex editor
This is the
WHOLE
flauros code, and as you can see it's very simple. and in here somewhere is the key to unlocking the code to Silent Hill's 3D models
Flauros is everything!