I don't doubt the game's vision. I've said it before that there are moments, really brief moments, where you can just feel like a superb horror game is trying to break through and reveal itself. But the game is just so weighed down with mechanical and technical problems, a visual style so utterly grey and bland it's sleep-inducing, and a story riddled with so many tiny little plot holes it just never gets through.
There are just so many tiny little moments in the entire game that just break it down. The game has a list of problems so long one could write a book on it. And even recently things have been pointed out to me that I never noticed that just add to that list.
Like, someone pointed out to me recently that in the lair drill chair sequence, when Alex breaks free of the chair, you can see the leather cuffs on his wrists, but when the camera shifts to show the closeup of the drill entering Holloway's jaw, just a few frames later, the leather cuffs have disappeared. Where did they go? The game never shows what happens to them. They just magically disappear a few frames after the last you see them.
Before: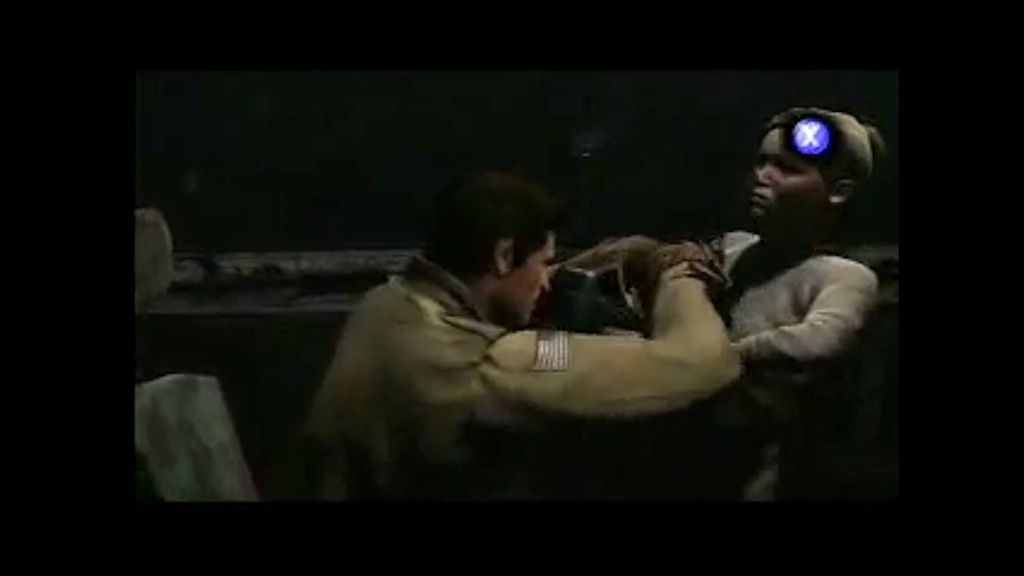 5 Frames later: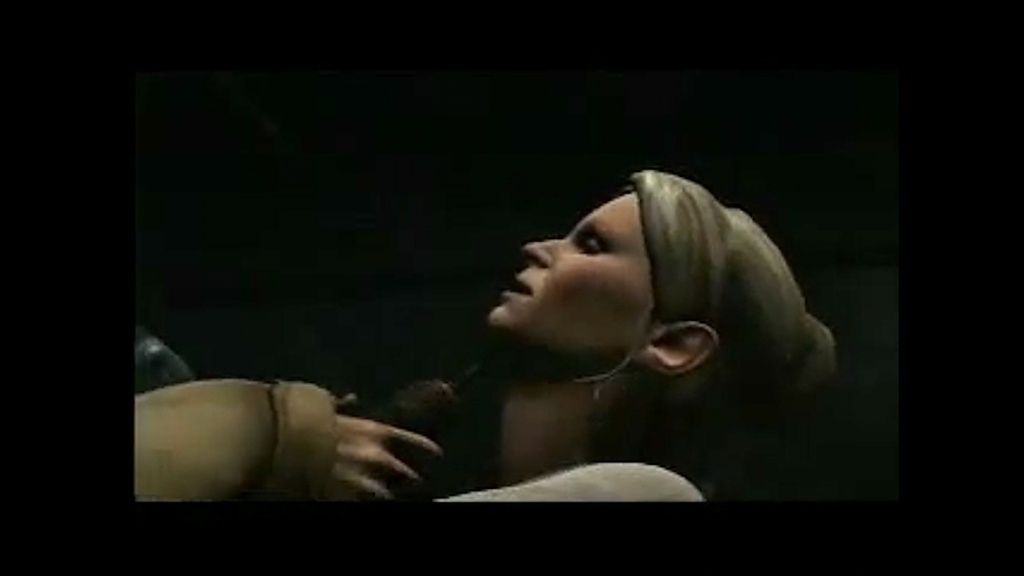 Where did they go? Did Alex stop, put down the drill, take off the cuffs, pick the drill back up, lean back to Holloway, and then shove the drill into her jaw, and did Holloway just stand there while he did it? The cuffs straight up vanish. That's no exaggeration. They flat out vanish. It's a continuity error that really shouldn't be present in a SH game, and something I don't think a team that cares about details would have missed.
And it was also pointed out that during that scene Judge Holloway is wearing high heeled shoes on a
grated floor
. She should have been falling all over the place during that scene when talking to Alex, unless each step was carefully placed so that the pegs would always land on the thin metal slats. Which is ridiculous. What really happened is Holloway's character model has high heels, and they straight up forgot about it when making that scene.
The game is just jammed full of little moments that just take you out of the experience. The fact that you can stun lock basically every enemy with the standard default weapon. The fact that they didn't realize a handgun's collision can be used to pass through any barrier. The fact that you can accidentally use a serum because they mapped a perishable to an inventory system that allows you to use items by letting go of the button. The fact that certain parts of Rose Heights cemetery sometimes don't load on time. The fact that more than 2 or 3 enemies on screen can severely damage the framerate. The fact that at certain loading screens the game has a high probability of crashing. The fact that simply firing the shotgun can drop the framerate. The fact that literally every branching dialogue tree ALWAYS ends up at the same outcome, rendering all choices pointless. The fact that Elle is hanging up missing persons flyers next to a crashed police cruiser with mutilated corpses around it. The fact that Toluca Offices has a map for it, even though you never pick it up, suggesting Alex just always had a map of the building on his person. The fact that Scarlet sometimes glitches out and gets frozen in place. The fact that the camera can clip out of bounds at certain moments during fights (like in the Ashpyxia fight) making it impossible to see what you are doing for brief moments. The fact that Wheeler will sometimes stand in a doorway in the hell prison and never move, forcing a reload (also known as poor NPC programming). The fact that the Needler gets an introductory cutscene in the hotel AFTER Alex has already encountered it in the elevator. The fact that shutting off the power at the W&P building seemingly turns off the sun as well (and that it somehow doesn't affect the area near the bait shop). The fact that the Shepherd house has no door connecting the garage to the main part (what kind of house is built so that the garage isn't connected?) The fact that health items you pick up in the nightmare hospital sequence carry over to Shepherd's Glen even though that is established to have never happened in the first place so where did those items come from? The fact that the bleeding effects on Doc Fitch somehow look worse than PS1 graphics. The fact that Alex washes up onto the Toluca docks beach which is impossible because lakes don't have tides that would be able to do that. The fact that at certain points in the game the flashlight provides almost no illumination in near darkness. The fact that Alex's character model has been known to disappear during cutscenes (and I even found a way to completely remove Alex from the entire game through a really easy glitch). The fact that Alex takes a drill to the leg and walks it off like nothing happened, no blood or anything, just like it never happened. The fact that the dress form in the basement falls into the water with absolutely no splash effect or sound, it doesn't affect the water at all. The fact that Wheeler has like ten knives stabbed into his torso and ONE MED KIT is somehow enough to not only keep him alive, but allow him to totally walk out at the end alive and well as though that wasn't a horrific injury that should have punctured many vital organs.. The fact that...oh I'm done. There are many more problems.
I don't doubt their vision. But the final product, the end result, is just really shoddy. It's okay if people like it. But I can't help but wonder just how many people would cut it the same amount of slack if it were not a Silent Hill title. If this were a game by some unknown developer and were simply titled "Homecoming" it'd probably be viewed the same as other buggy and broken games like Ride to Hell Retribution or Aliens Colonial Marines.
The laundry list of problems, if this were not a Silent Hill game, would make this game a laughing stock of the industry. People would use it as a "how not to make a game" standard. I'll admit the only reason I don't hate it is because it's a SH title, and try to find enjoyment from it.
But if this weren't a SH game? It'd be in the trash. Along with RE6. It's just a really low quality horror game, especially when compared to all of it's superior brothers and sisters.
There are some good moments, yes. I like the initial sequence in Shepherd's Glen, the music and ambiance creates a really lonely and haunting setting. I like initially searching the Shepherd house for the same reason. I like *some* aspects of the hotel level. I think the boss designs were phenomenal and really creative, would have been right at home in the earlier games.
Besides that, not really a fan. I like games that are made with thought, love, time, care and patience. Homecoming feels rushed, sloppy and not thought out. Even for Yamaoka, this is not his best work. Besides a few well known tracks, most of the sound work for HC is really uninspired and tired. By that point he was burned out I think.
And this is "Negative of Silent Hill Homecoming" thread so it's totally okay for me to express my feelings here. This isn't "Positives of" thread. I would never post this there.