I played this game many times, and did all endings. But is different to come back to the game after years and did the natural first ending "In The Water" once again. I think I was more relaxed this time, and I could think again about the game with the theory of suicidal James (we discussed here somewhere): he came to the town to die, nothing else - unless the player lead him to a different ending. And how this can happen?
The theory of suicidal James make sense to me, he is beyond confused, is deep depressive, delusional, will kill and die. The "In The Water" is not just about to see the knife, but the obsession, the anger, the denial and everything else, including to ignore Laura. I also call attention to the precision of the creation of those characters: James, Eddie and Angela, authentic in all details. Disturbed and selfish people potentially dangerous. James might be lighter, and maybe there is hope for him. Why can we have hope for James?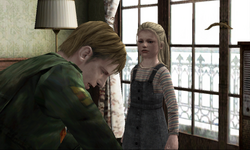 In the plot and following the drama, I believe the "Leave" ending is the opposite, when he just walk away with only what matters, leaving everything else behind. The Maria's ending is still in the fantasy field and the "Rebirth" is more like avoid the current issues and create new ones. Ok, not considering "The Dog" nor "UFO"...
There is also the algorithm of endings in this community that reinforces the point of "what matters", though. My view of the game is James is chasing what matters to him, but she is dead, among with a idea of living - marriage, joy, sex, kids, etc.. It was never only about Mary's death. With a deep frustration and selfish behavior, he just can see what really matters: life! We all will gone to die, and dying is always bad (Dr. House). We need values, connected to life, or life make no sense at all. So what matters after all? What materializes meaning of life?
Laura is symbolically the life James is missing. He can't even remember her and the pain in the kid is "visible", as she follow the basic childhood instinct of look for adoption by being around him, she won't leave him alone. Finally, he confess to Laura about the crime that is the trigger of the events of Silent Hill 2. Also Laura don't see any monster and I am not sure if she even can see Maria. She is unique. More than to get away from the city with a kid, James needs to come back to real life and do the basics, play the rule of daddy, be useful for something, part of society... and to deal with the pain! Laura it's a remind of the pain, but without she, there is no other ending but death, delusion or a creepy life.
Not easy to escape from Silent Hill right? What your view of Laura in the game?