You'll need a program called
XVI32
(Hex editor) and do the following:
1) Launch XVI32 and open (File -> Open or Ctrl+O) sh2pc.exe from the directory of the installed game on your hard drive.
2) You're going to replace the in-game 640x480 screen resolution with the desired one. For this you need to replace the Hex-value of this resolution (80 02 00 00 E0 01) for the one you need. E.g. Hex-value of the 1920x1080 resolution is 80 07 00 00 38 04.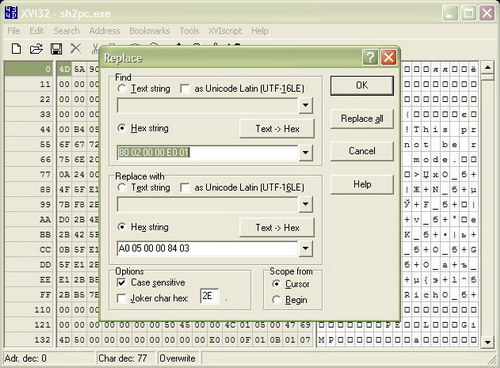 Use the replace function in the program (Search -> Replace or Ctrl+R) and fill the fields in the dialogue box:
Find - 80 02 00 00 E0 01
Replace with - 80 07 00 00 38 04
Enter Ok.
3) Save the file (File -> Save or Ctrl+S). You can overwrite the orginal executable (better make backup first) or save as a new file which you're going to launch to play the game.
4) Launch the game and choose in the options (Options -> Advanced Options) resolution of 640x480. The game will run in 1920x1080 resolution as a result.
PS If the game looks stretched and distorted after the change of the resolution, try to exit the game and relaunch it. This should help.